Welcome
What's Pluto?
A planet site generator in ruby that lets you build web pages from published web feeds.
Getting Started
Use the pluto command line tool and pass in one or more planet configuration files. Example:
$ pluto build ruby.ini       or
$ pluto b ruby

This will
1) fetch all feeds listed in ruby.ini and
2) store all entries in a local database, that is, ruby.db in your working folder and
3) generate a planet web page, that is, ruby.html using the blank template pack in your working folder using all feed entries from the local database.
Open up ruby.html to see your planet web page. Voila!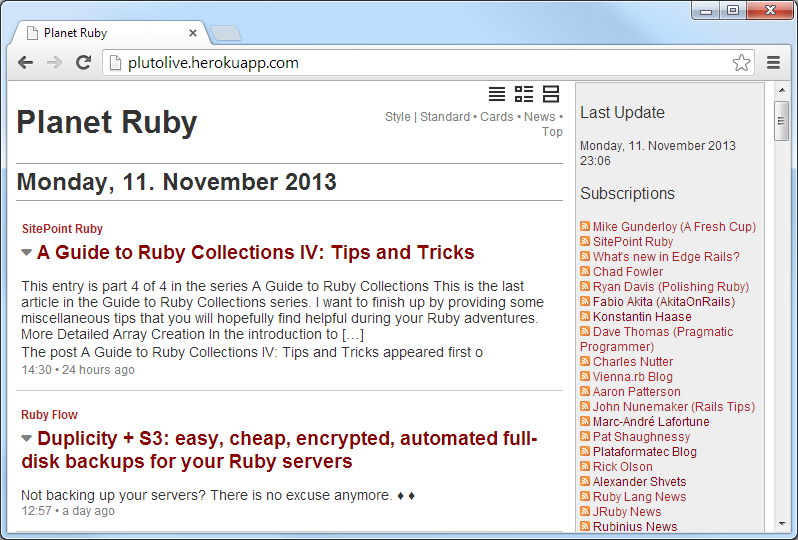 Bonus: Try some different templates/theme packs
Planet Configuration Sample
ruby.ini:
title = Planet Ruby

[rubyflow]
  title  = Ruby Flow
  link   = http://rubyflow.com
  feed   = http://feeds.feedburner.com/Rubyflow?format=xml

[rubyonrails]
  title = Ruby on Rails Blog
  link  = http://weblog.rubyonrails.org
  feed  = http://weblog.rubyonrails.org/feed/atom.xml

[viennarb]
  title = vienna.rb Blog
  link  = http://vienna-rb.at
  feed  = http://vienna-rb.at/atom.xml

For more samples, see nytimes.ini, js.ini, dart.ini, haskell.ini, viennarb.ini, beer.ini, football.ini.
Real World Usage
pluto.live - sample planet site; sinatra web app in ruby using the pluto gem
About, License
Gerald Bauer and contributors designed and developed the pluto gem. See the change log for contributions and credits.
License. The pluto scripts and templates are dedicated to the public domain. Use it as you please with no restrictions whatsoever.
Questions? Comments?
Questions? Comments? Send them along to the Planet Feed Reader - Pluto and Friends Forum/Mailing List. Thanks!
Edit Me! This website is a public GitHub repo. Please help by forking the project and adding to it.